An Export Pewter Cream Pot by Henry Joseph -
SOLD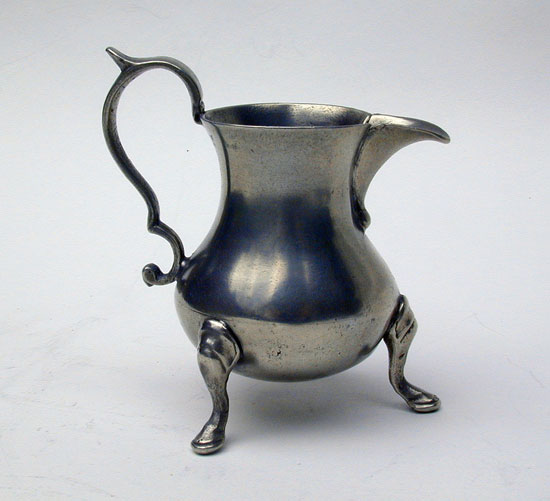 This cream pot was made by the Master Pewterer Henry Joseph of London who produced pewter from 1736-1784.

This maker is most noted for the wide variety of hollowware forms he produced, many of which involve tea drinking.

There are wide and varied styles of teapots and cream or milk pots from his shop. There is also at least one style of sugar bowl that he also produced. He also made "broth bowls" which we believe were used as "slop" or waste bowls for discarded tea leaves.

This example features a more "delicate" form of leg and spout as compared to the other Henry Joseph cream pot on this site. It is important to note this form is found on a round base as well.

This example is in fine condition with some etching on the inside bottom. Of note is this example was in the collection of Ledlie I. Laughlin. This measures 3 15/16" to the top of the handle.

Marked with his "HI" touchmark. Note the inscribed date of 1754, an appropriate date for this style of creamer c-1740-65.