An Old English Wine Standard Quart Tankard by William Eddon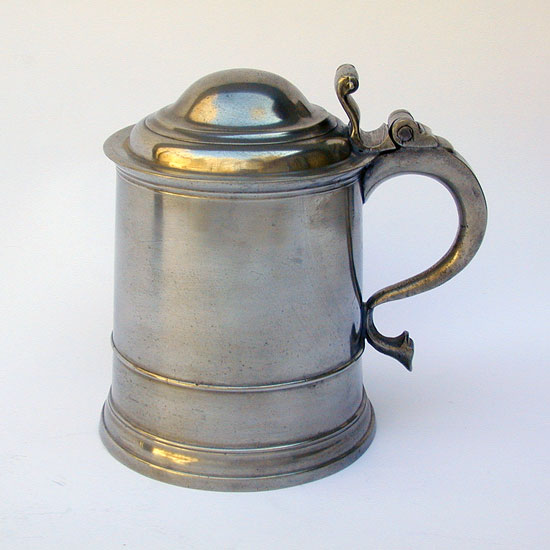 This O.E.W.S. quart tankard was made by William Eddon, working in London from 1689 to around 1740.

This tankard with fish-tail terminal handle would date circa 1715-25.

Of interest is the use of a handle and thumbpiece designed for a pint tankard. This use of smaller handles on OEWS quarts is also seen on tankards by Richard King.

In near fine condition with a double struck touchmark. You can see how the marking die "jumped" when the touch was struck leaving a double impression.

This is an export tankard and was formerly in the collection of Ledlie Laughlin. It was sold for him by T.D. Williams who had Laughlin's notes on this piece. Due to the partially struck touch and similarities in design to American tankards, Mr.Laughlin had tentatively ascribed this as American.

6 1/4" to top of thumbpiece.
Price: $4500
If you are interested in buying this item, please call (860) 267-2146 or email philt@snet.net