A Quart Tulip Export Tankard by TS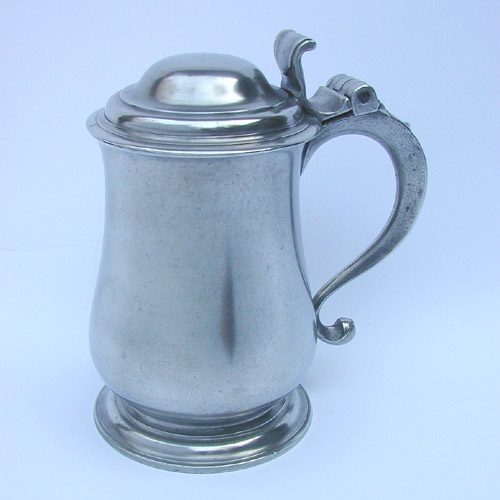 This handsome quart tulip export tankard bears the infamous TS touch. Thought by many early scholars to be the touch of an unknown American pewterer, this touch is now squarely in the English Export corner.

The handle on this tankard was cast in the same molds as used by Philip Mathews. There are examples of TS marked mugs also marked with Philip Mathew's hallmarks.

I personally feel this tankard is the product of Thomas Swanson, London circa 1753-83.

This particular tankard utilizes the standard Mathew's thumbpiece not the usual open heart thumbpiece generally seen.

In fine condition with a very good touchmark. 7 3/4" tall to top of thumbpiece.
Price: $3750
If you are interested in buying this item, please call (860) 267-2146 or email philt@snet.net