An Unmarked William Will Mug with Owner's Name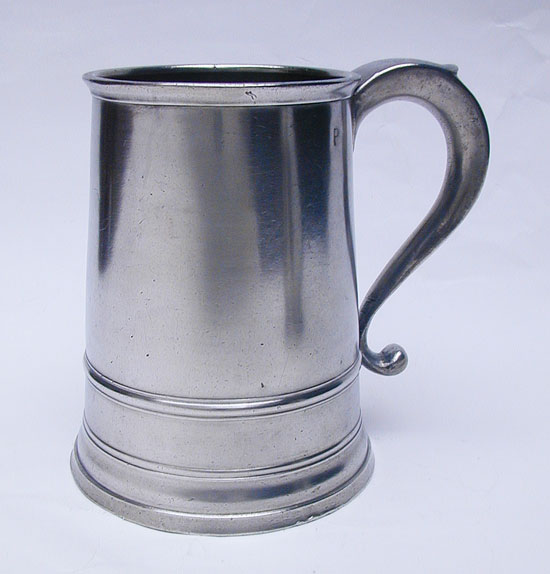 This Unmarked William Will Mug has the owner's name, Jacob Neff, wriggle engraved on the bottom of the mug. Under this is either 10 RC or IORC definitely engraved by someone else. Although unmarked this mug is identical to marked examples. The Will taper sided quart body is very distinctive with bold moldings. Also, the ball terminal handle is distinctly his.

Will's taper-sided-tankard bodies were cast in the same mold used to make this mug. The mug measure 5 15/16" to the top of the lip. The exterior metal is in near fine condition. The inside surface has etching and inside bottom has some pitting.

I have no way to determine exactly who Jacob Neff was, however being that Will's working dates were 1764-1798 there is the distinct possibility this belonged to an individual living in that time frame. To the left and right of the handle there are "P" markings struck into the body. No idea as to the significance of these initials.

On line I found a Jacob Neff who was a soldier in the American Revolution. One Jacob Neff is listed in Captain Moore's Company of the 2nd Battalion Lancaster County Militia. I am sure there were many other Jacob Neff's whom could have owned this mug. It is nice to think it may have been his.

Price: $1675
If you are interested in buying this item, please call (860) 267-2146 or email hiltpewter@gmail.com