A Very Scarce Samuel Danforth Pint Mug with High Fillet -
SOLD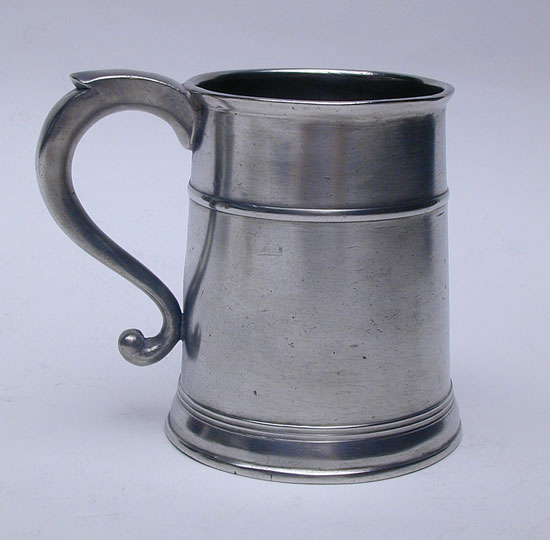 A Very Scarce Samuel Danforth Pint Mug with High Fillet, this is only the second Samuel Danforth Pint Mug with High Fillet we have seen. Several years ago, we offered one that was Wayne's Dad's collection. That mug is pictured in John Carl Thomas' book Connecticut Pewter and Pewterers.

This mug has a fillet of plainer design, whereas the other has design cut into the fillet. It is certain this design was taken from mugs made by Frederick Bassett who moved from New York City to Hartford during the Revolution.

This mug is in very good condition, it measures 4 1/2"tall to the lip of the body. The handle has a ball terminal. Unfortunately, the touch is very much worn and is barely visible. None the less it is marked. I am surprised that this high fillet design wasn't used more frequently by Hartford Pewterers as it is attractive. There is an example of an Edward Danforth Quart Tankard with high fillet pictured in Charles Montgomery's book A History of American Pewter.

This is a scarce Connecticut mug and priced accordingly, were the touchmark in fine condition the price would be considerably higher.