A Scarce Unmarked Trask Pewter Sander -
SOLD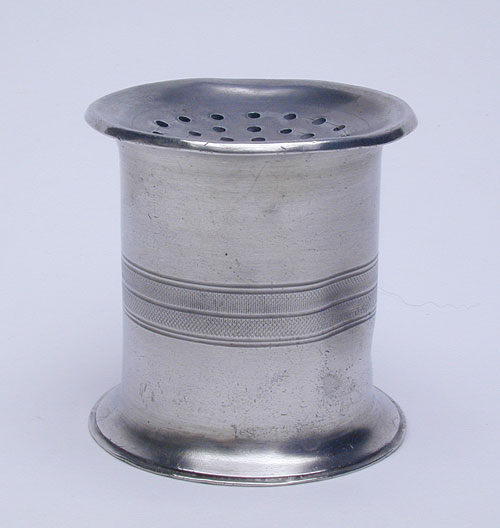 Unmarked American Pewter Sander attributed with confidence to the shop of the Trasks. This sander is made of sheet metal. These were filled with a fine sand to help dry ink after writing a letter. The sand was recovered and shaken back into the sander through the holes in the top.

The mid-section of this sander has two bands of knurled decoration that is a "signature" of Trask pewter pieces. This banding is seen on communion plates as well as tall and short beakers by the Trasks.

This knurled band decoration was used by both Israel and Oliver Trask. They were in business in the first half of the 19th century.
Typical of this form there are dents to the body undoubtedly caused by someone dropping it on several occasions after "sanding" a document. A scarce item. The sander is 2 ½" tall and has a top diameter of 2 7/16".