An Export Pear Form Pewter Teapot by John Townsend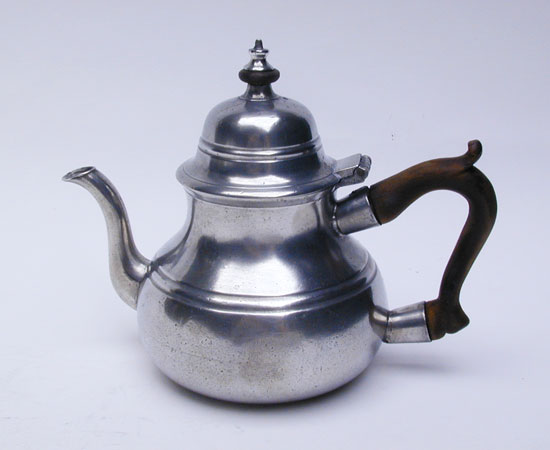 Pewter Export Pear Form Teapot by John Townsend, London, 1748-1801 marked with his small lamb and dove touch he used exclusively on hollowware.

Townsend was the patriarch of a succession of pewtering firms including a number of partnerships. His legacy continued after his passing by his son-in-law Thomas Compton.
These firms had major impacts on surviving export pewter in the United States. One shipment made by Townsend to a Philadelphia merchant in 1763 was over 12,900 pieces.

This teapot retains its original wood handle. The handle shows damage from heat likely cause by being set to close to a candle scorching one side of the handle. The teapot measures 6 1/8" tall to the top of the finial. This is a nice example to a mid 18th century Export Pewter teapot by a well sought-after maker.

Price: $1675
If you are interested in buying this item, please call (860) 267-2146 or email hiltpewter@gmail.com