A Childhood Sampler by Huldah Danforth, Daughter of William -
SOLD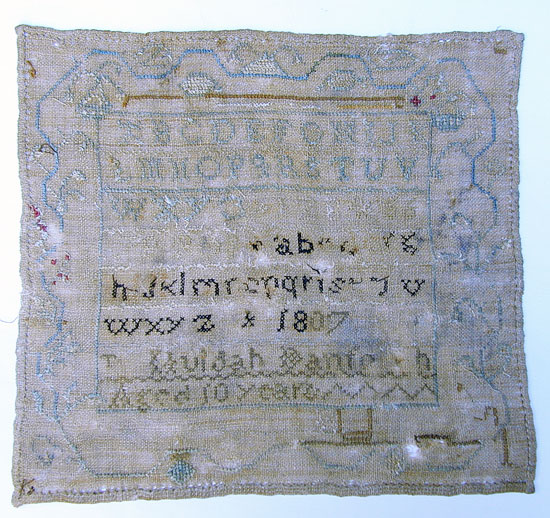 Objects actually belonging to historic craftsmen or their family members are rarely encountered especially one that is signed. We have presented here a sampler wrought by Huldah Danforth, daughter of the Pewterer William Danforth and his wife Huldah.

The Mortimer Cemetery Records hold a considerable number of records of the Danforth Pewtering Family. William, son of Thomas Danforth II, was born in 1769. He likely served his apprenticeship from 1784-1790 at the tutelage, of his older brothers. He was active as a pewterer from c-1790-unitil his death in 1820 at the age of 52.

William made his home in Middletown, and had a family, he and his wife had a number of children who are buried in the cemetery. A son John born in 1798 died at the age of 13 in 1811, A daughter, Frances, born 1808 died at the age of 9 in 1817. Hulda, the author of this sampler was born in 1797 and died at the age of 38 in 1835. She never married.

In 1807 Huldah created this sampler, as samplers go it is very simple with few embellishments, the alphabet, and her name and age, 10.

This is only in good condition and shows some worn spots, the rarity involves the fact that this was made by William & Huldah's daughter Huldah, who was named after her mother.

Of interesting note: the Cemetery erroneously lists Thomas Danforth II who died on August 8, 1782 as the son of William and Huldah (Sr.)

The sampler measures 12" across and 10 ½" high. This sampler was part of the exhibit Connecticut Pewter and Pewterers held at the Connecticut Historical Society in 1976. A rare Danforth Family object.