An English Export Pewter Tankard by John Piggott -
SOLD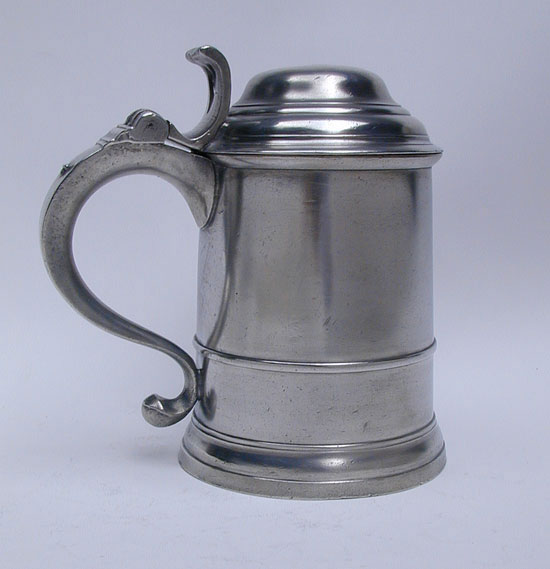 An English Export Quart Pewter Tankard with heart cut-out thumbpiece by John Piggott of London, 1736-1755. Piggott had a substantial export market to the Colonies. His work is represented by Plates, Dishes, and Basins. He produced hollowware forms including Teapots, Mugs, and Tankards.

The Pewter Society has the touchmark that is on this tankard listed as that of John Phillips, London 1784-1838. This is in error. All of the forms currently known with this touchmark are of mid 18th century design. For example IP marked pear form teapots are found that were cast in the same molds as those made by Samuel Ellis (1721-1765) and John Townsend (1748-1801) . So too the tankard listed here is of mid 18th century form and most certainly not of late 18th early 19th century manufacture.

This tankard is in near fine condition, there is etching on the inside bottom of the tankard. The scrape finish marks show clearly on the back of the thumbpiece and the handle. Lathe marks show on the inside of the lid and bottom of the tankard. There are a few hairline stress marks on inside of the body by the handle and inside of lid.
The tankard measures 7 ¼" tall to the top of the thumbpiece.