A Townsend & Compton Export Pewter Pear Form Teapot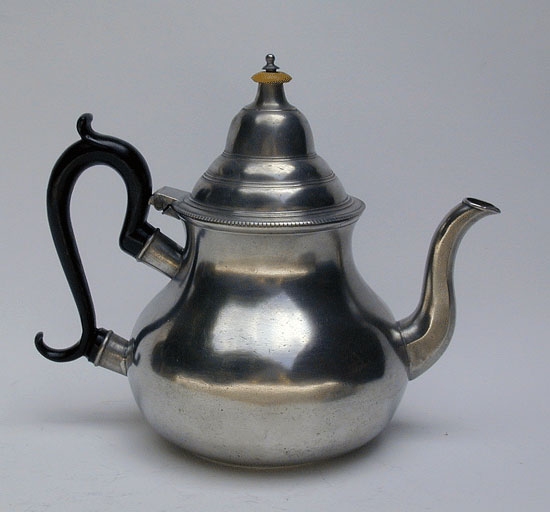 English Export Pewter Pear Form Teapot by Townsend and Compton. The Townsend dynasty began producing pear form teapots during the mid 18th century.

Throughout their existence they "modernized" their designs to meet the "current" market. Early teapots have more robust bodies and lids with turned banding decoration. They also have wood handles and buttons. Some pots were made with zoomorphic spouts. As time went on the forms became "lighter" in design. The lids went from a single dome design to the "stepped" dome design seen here. In the latter design a beaded edge was often added. Also, they went from wood handles to slush cast metal handles.

This teapot is very fine on the exterior. There is a dent on the lower curve of the handle. The interior has some sporadic pitting on the inside bottom. The touch mark is very fine. The teapot also retains its original bone button. The pot measures 7 ¼" to the top of the finial.

Price: $495
If you are interested in buying this item, please call (860) 267-2146 or email hiltpewter@gmail.com