A Pattern 1851 Civil War Cavalry Buff Belt Set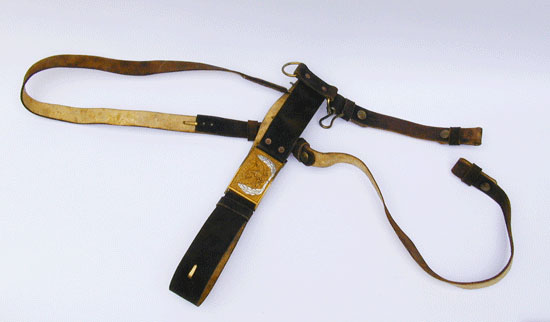 Pattern 1851 buff leather Civil War cavalry belt set by Edwin A. Crossman & Co. of Newark, New Jersey. They had federal contracts issued in 1864-65 for considerable quantities of leather accoutrements including one for 5,000 saber belts & plates.
This belt set is in unissued condition with an excellent stamp of the maker on the inside surface of the belt. The buckle has a single piece German Silver applied wreath, the buckle measures 2.2" wide. It is important to note that in November of 1861 regulations were announced that specified the 2.2" wide buckle, prior to this they were 2" wide. The earlier style buckle had a 3-piece German Silver buckle with leaves above the wings of the eagle. Some collectors refer to this as an 1861 buff belt set due to the size change. Note also the width of the belt is slightly wider that those found on belts with the 3-piece wreath.

This belt retains it's original buckle and matching keeper both marked with the bench number 563.

A superb example hard to improve upon.

Price: $2150
If you are interested in buying this item, please call (860) 267-2146 or email hiltpewter@gmail.com