A Model 1855 Civil War Cavalry Shell Jacket -
SOLD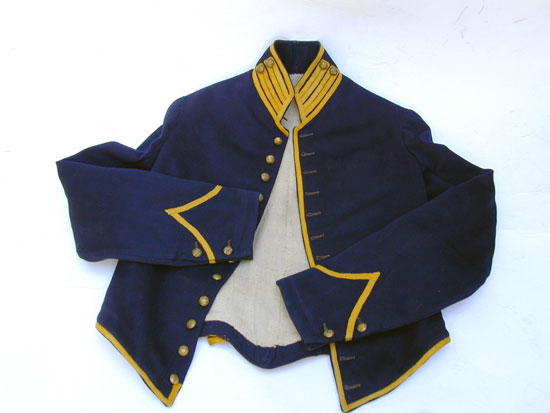 Pattern 1855 Civil War Issue Cavalry Shell Jacket. This jacket was made under a government contract issued to Isaac Haber & Co., NYC on the 5th of November 1864. Haber had many contracts throughout the war for many different uniform items. This jacket was part of the contracts for 56,800 jackets.
This jacket is in fine condition free of moth damage. It has all of its original yellow piping and retains all buttons. A number of buttons have been resewn. Also a few seams show resewing. This is typical of machine sewn jackets due to quality of the thread that was in use during this period.

The jacket retains the white muslin liner and sleeve linings. The left sleeve has a super stamp of Haber's mark along with the number "1" for the size.