An Antique Pewter Basin by Nathaniel Austin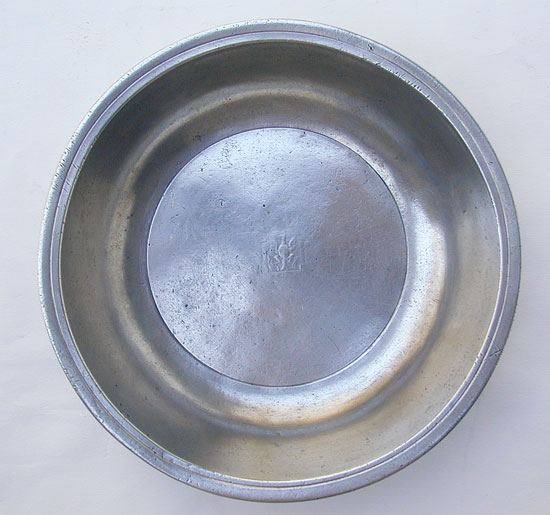 Nathaniel Austin worked in several towns by necessity rather than choice. He began his career in Charlestown, Massachusetts. He worked there from 1763 until the British bombarded the town if 1776, when his house and shop were destroyed.

At this point in time he moved to Lunenburg, Massachusetts where he set up shop. It should be pointed out the succession of touches that Austin used to mark his pewter. The first was a lion rampant in gateway...An emblem of the British Crown. After his encounter with the affection the British had shown him he developed a scroll touch which undoubtedly coincided with his move to Lunenburg.

He returned to Charlestown after the British departed and at this time likely developed the eagle touch seen on this basin in recognition of the New Nation, the United States of America.

This 7 7/8" basin is in very good condition with a fair to good touch. This piece is well used but not abused resulting is a "soft" appearance developed over years of being used carefully.

Price: $345
If you are interested in buying this item, please call (860) 267-2146 or email hiltpewter@gmail.com