A Pattern July 1864 Civil War Cartridge Box -
SOLD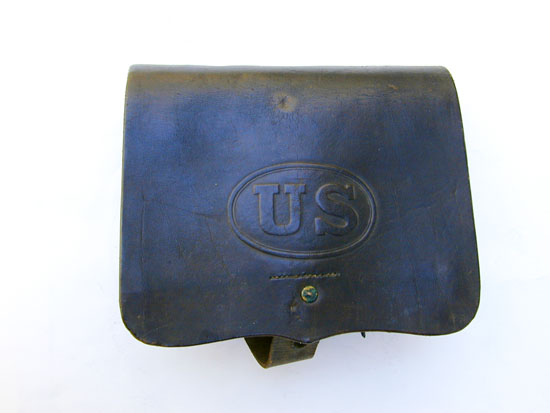 The United States Government entered into contracts with leather makers to produce the July 1864 Pattern Cartridge Box. Unlike all preceding issues of boxes this pattern incorporated an embossed "US" in oval on the front of the cartridge box. All previous models had provisions for placement of a brass US oval.

E. Metzger is one of around 8 different contractors who produced "sets" of leather goods, including cartridge box, cap box, bayonet scabbard, waist belt and cross strap.

This example is in very fine condition. There are a few "dents" on the leather where closure finials rested when these were put into storage. Although these are of late war production there is photographic evidence that numbers of these were actually issued.

This box is unissued and retains its original tin inserts. The box measures 8" wide by 6 3/4" tall. The closure tab is in super condition.



A very nice example of a July Pattern 1864 Cartridge Box with excellent maker's and inspector's marks.