An Unmarked Antique American Pewter Salt Attributed to Thomas Danforth II -
SOLD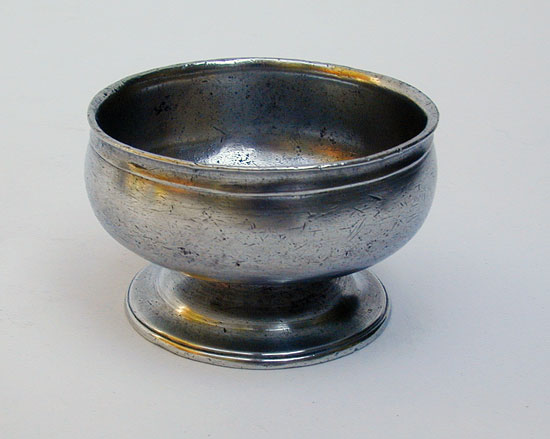 At the time of Thomas Danforth II's death in 1782 a very detailed inventory of his property was created as he died intestate and as Jacob Whitmore owned some pewter molds jointly with Thomas, this was required.

In the inventory there is a salt mould.  For years collectors and dealers presumed that these Danforth salts were likely English as the form of the Danforth examples is very much like those by English pewterers.

The underside of the base exhibits bold turning lines.  These are frequently found on Danforth sugar bowls and dram cups.

After several examples were discovered with the Danforth "crowned X" mark, these rare 18th century American salts were placed in their appropriate niche.

This example is in near fine condition, it does have some pitting to the inside of the bowl which is typical for salts.

The salt measures 2 9/16" in diameter with a base diameter of 2 1/8".