A Quart Antique British Pewter Export Tulip Tankard by Thomas Swanson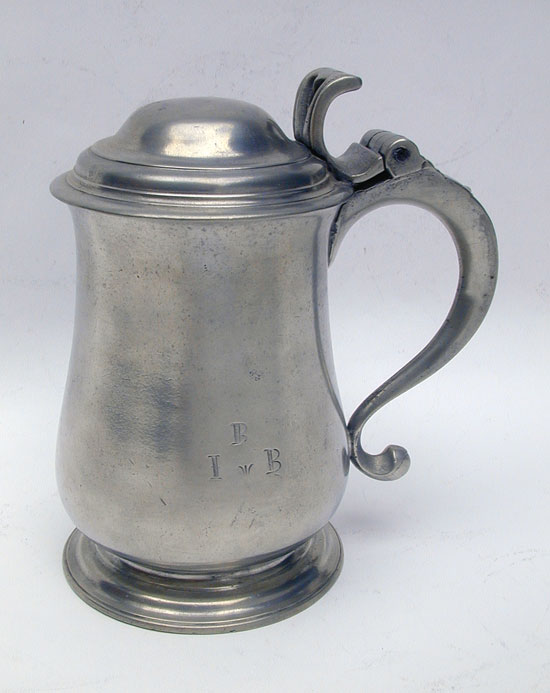 This tulip form quart pewter tankard is marked "TS". For years these tankards so marked turned up in New England causing numbers of students of antique pewter to believe these were American.

Subsequent research has proven these to be English. I personally believe the TS is for Thomas Swanson a know exporter of pewter to New England. Considerable amounts of flatware are know marked with touches including his name. There are a considerable number of English Export pewterers whose marks used on hollowware only have their initial. Therefore the most logical person to assign this touch to is Thomas Swanson.

Swanson was a successor to Samuel Ellis, London, 1721-65. Swanson was given leave to strike his touch in 1753 and in 1765 was given leave to strike Ellis' touch.

The foot of this tankard was heavily damaged and required extensive restoration therefore the price is considerably less than a perfect example. The tankard measures 7 5/8" to the top of the thumbpiece. Nicely engraved initials are on the side of the body.
Price: $985
If you are interested in buying this item, please call (860) 267-2146 or email hiltpewter@gmail.com