A Three Piece Pewter Communion Set by Boardman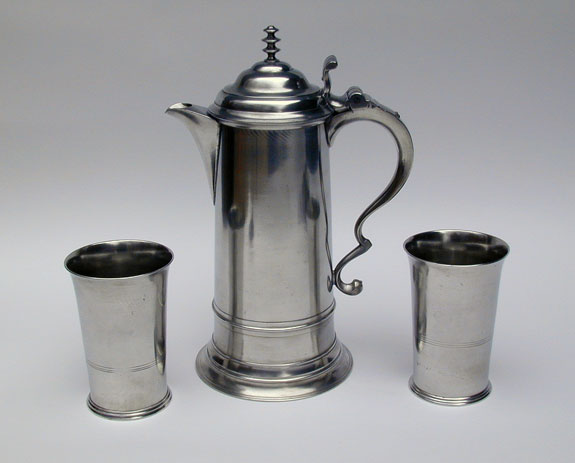 This near mint three piece pewter communion set is by the Boardmans of Hartford, CT and is a super example of the fine pewter they produced.

Although the flagon is marked by Boardman and Co. NY and the beakers are marked by Boardman & Hart, New York, it is quite certain that these were manufactured in the Hartford Shop for sale in the New York office.

The flagon and beakers are in as mint a condition as we have had. The flagon measures 12 1/2" to the top of the triple tiered finial. The beakers measure 5 1/4" tall. The inside and outside surfaces are nearly perfect.

There are some casting defects (not pits) on the beakers. The flagon has a small linen mark on the inside of the lid where the Boarmans filled a flaw on the outside of the lid that was discovered after the inside of the lid was finished. The metal melted through the lid and the linen pad held by the worker resulted in this mark. This is the way this was made.

This is a remarkable survival in this condition. Reasonably priced as we acquired it at a modest price. FOR ADDITIONAL PHOTOS OF THIS SET GO TO PAGE 3 CHURCH PEWTER.
Price: $2150
If you are interested in buying this item, please call (860) 267-2146 or email hiltpewter@gmail.com