Another Quart Pewter Export Tankard by Thomas Swanson (TS)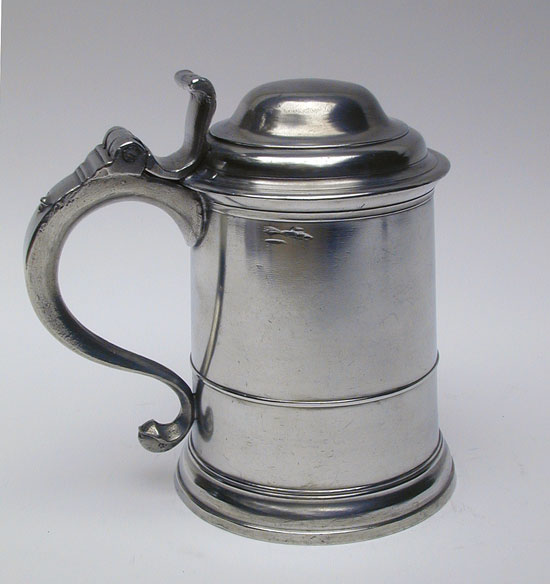 This Quart taper-sided Pewter Export Tankard is marked "TS". The touchmark in this piece was originally thought to be that of an unknown American Pewterer. Numbers of Tulip Form tankards with open heart thumbpieces had been found with New England/Northeast association and early scholars felt that these were a product of some local pewterer.

It is now certain that these are English Export and in our opinion the work of Thomas Swanson, London 1753-1773 when he went from a Pewterer to Clothworker.

Like the other TS tankard this tankard is in very fine condition with scrape marks clearly visible on the thumbpiece and handle. Lathe marks show clearly on the inside of the lid, bottom, and even on the body.

There is some very light etching on the inside bottom. The tankard measures 7 1/4" tall to the top of the thumbpiece. The touchmark is more complete on this example than the other one. There is a gouge on the upper body to the right of the handle. This occurred in the manufacturing processas there is no sign of this on the interior surface.

Overall this tankard is in slightly finer condition than the other. Tankards in this condition are difficult to come by.

Price: $2650
If you are interested in buying this item, please call (860) 267-2146 or email hiltpewter@gmail.com