Unmarked American Pewter Tankard Attributed to William Elsworth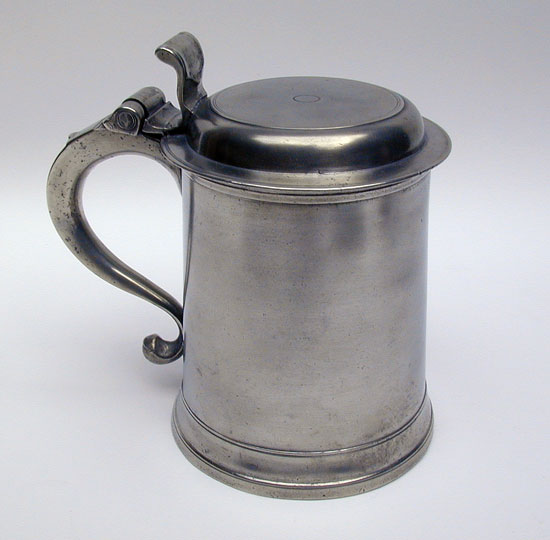 This unmarked American pewter flat-top tankard is made in the same molds that were used by William Elsworth, New York City, 1767-1798. The incised lines on the lid vary slightly.

This tankard is in near fine condition on the exterior with some etching to the interior surface. Laughlin mentions a marked example by Elsworth that closely resembles those made by Peter Young. Indeed the Elsworth examples are very similar save for two features. The Young thumbpiece has a distinct backward slope whereas the Elsworth thumbpieces are of the standard erect posture. The other feature of the Young tankards is the ball terminal has a distinct ridge all around the ball "cap".

Marked tankards by Elsworth are very scarce represented by fewer than 8 to 10 examples, so an unmarked example is also scarce.

The tankard measures 7 1/16 to the top of the thumbpiece. We have added photos of the marked example for comparison.

Price: $7400
If you are interested in buying this item, please call (860) 267-2146 or email philt@snet.net