A Boardman 5 Piece Communion Service with Provenance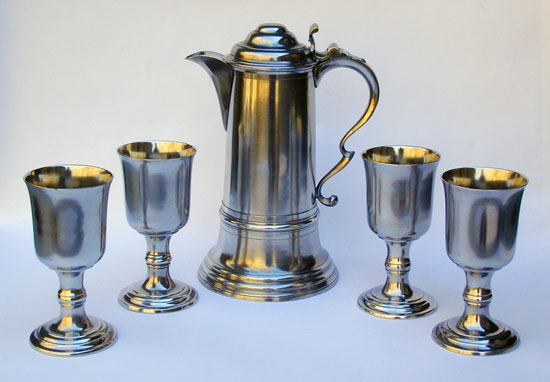 This fine 5 piece Boardman Pewter Communion Service was sold through a small shop in Indiana passed down the line and we were very fortunate to be able to acquire it.

This set belonged to the Congregational Church of Angola, Indiana. The set consists of a three-quart Boardman flagon and 4 unmarked Boardman tall chalices. The set is in superb condition with only minor blemishes.

The flagon is marked with two strikes of the Boardman & Co NY small eagle touch along with Boardman & Hart and the N. York mark. There are also two "X's". One of the four chalices has different turnings on the shaft with the addition of bands above and below the center knop. All of these pieces have a mark scratched on the underside consisting of two parallel lines with another line drawn through them.

The chalices measure 7 1/8"' tall and the flagon 12 1/2" to the top of the thumbpiece. All are in very fine condition. The inside of the flagon is as mint as any example we have ever had. Sets with provenance are uncommon, this a beautiful set is worthy of any collection of pewter communion ware.
Price: $3350
If you are interested in buying this item, please call (860) 267-2146 or email hiltpewter@gmail.com