A Quart Tulip Antique English Export Pewter Mug by John Piggott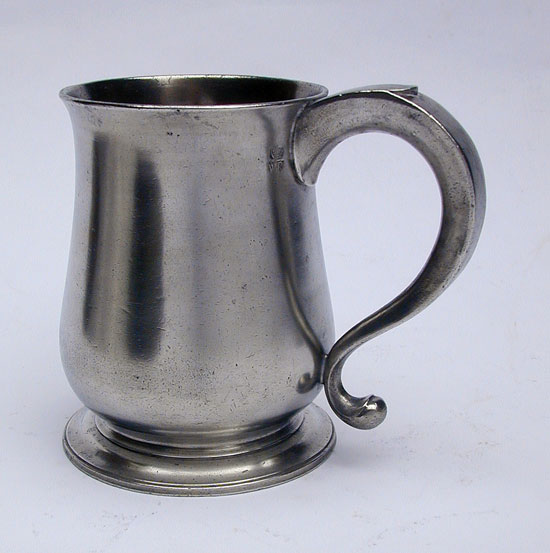 The Pewter Society database attributes the touchmark in this mug to a John Phillips 1784-1838. They do mention the possibility that the mark is of John Piggott, 1729-55.

I am certain the mark belongs to the latter. There are mugs from the same set of molds by John Townsend made before his numerous partnerships, circa 1748-65. Further pear form teapots with wood handles both low and bell dome lids are found with the IP touch. The working dates for other makers of these styles of teapots nearly invariably date from the 1720's/30's to 50's80's.

John Piggott is known exporter via considerable flatware found here, Mr Phillips is not.

The mug is in very good with a near fine touchmark, of wonderful heavy construction with a dramatically bold ball terminal handle. The mug is 6" tall to the lip.
Price: $950
If you are interested in buying this item, please call (860) 267-2146 or email hiltpewter@gmail.com